The College Years
Making a clean break with The Middle Years, I set out on my own on a journey of discovery. Arriving on a late summer afternoon at the Purdue Airport I discovered I should have shipped more and packed less...it would have been a long walk to the dorm but a returning Senior took pity on my and gave me a lift. A view of the dorm where I lived for the next three years is provided below...my room (shared with one Christopher Camp) is located on the top floor over the arch to the left of the tower.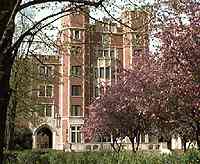 a very contracted view of Cary Quadrangle.
To be true, the whole ordeal was somewhat of a blur. Though most of the experience remains to this day shrouded in drunken haze I can touch on the finer points:
Engineering - What to say, I love the science and math stuff. I was also in a state of denial as to what it actually meant to be, in the case of my own aspirations, an Aerospace Engineer. I envisioned coming up with cool new concept or x-planes that would push back the boundaries of the envelope of flight. Eventually I learned the ugly truth...an aerospace engineer works on one tiny little piece of the project, say the six inches from the wing tip inward, and really never gets to see, much less have significant input into the whole project. Kinda sucky if you ask me. A combination of this fact and my desire to secure a position at Flight School led me to see the light and move on.
Liberal Arts - Say what you will about the technical merits of Liberal Arts but I can tell you one thing they have tons of that Engineering lacks . . . WOMEN! Not that I had much time to enjoy this as I was in my Senior year after switching majors and taking 21 followed by 26 credits (yes, that is not a typo...I had to get the Dean's permission...got a 3.1 for the semester too!). But it enabled me to graduate on time in spite of having around 15 credits from NROTC which counted for zip towards graduation.
Navy ROTC - What can I say, I'm a child of the Cold War. Ronald Reagan was (still is) the man and I thought there could be no finer place to be of service to my country than in Naval Aviation. To my credit, I sought out the Navy and was well on my way towards earning my NROTC scholarship before the release of the movie Top Gun. Life as a Midshipman was entertaining and provided an interesting counterpoint to the an otherwise liberal collegiate environment.
Obviously there is plenty more where that came from...maybe if I set up a secure site....
The blur came to a screeching halt one fine May morning and I was commissioned an Ensign in the United States Navy...graduation was to follow that afternoon but I had other plans and jetted off to Las Vegas for a few days before I had to return, pack my things, and head off to begin the Navy Years.